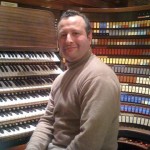 Born in the south-west of France, Frédéric Blanc began improvising on the piano and organ at a very age. He later decided to devote himself entirely to music.
After attending the conservatoires of Toulouse and Bordeaux, he furthered his studies and perfected his technique notably with Pierre Cogen, André Fleury, Marie-Claire Alain and Marie-Madeleine Duruflé.
He has won several international competitions (Chartres 1996, 2nd prize ; Paris 1997, 1st prize) and has given numerous recitals as a soloist or with orchestras. He is an experienced accompanist and has taken part in radio programs and conferences. He has directed masterclasses on French music and improvisations all over Europe and the United States (Royal Academy of Music, London). He has been invited by numerous festivals : Friedrichshafen, Bonn, Chartres, Roquevaire, Toulouse les Orgues, Rome, to name but a few.
Frédéric Blanc is a member of the Organ Commission of the City of Paris and the Organ Commission of the French Ministry of Culture.
His recordings for Motette, EMI, Aeolus and Baroque Notes have been hailed by critics who wiew him as one of the most gifted improvisers of the French school of organists.
He is the author of a critical study of the works of André Fleury (l'Orgue – Cahiers et Mémoires) and of the memoirs and writings of Maurice Duruflé (published by Séguier, Paris) as well as several reconstitutions of Pierre Cochereau's improvisations (published by Butz).
He has been titular organist of the Cavaillé-Coll organ at the church of Notre Dame d'Auteuil in Paris since January 1999 and is musical director for the Association Maurice et Marie-Madeleine Duruflé.