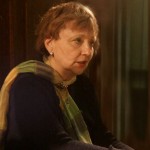 Françoise Rieunier won eight first prizes at the Music National Conservatory of Paris, including those running on the organ and improvisation awarded unanimously first named by a prestigious jury (André Marchal, Marie-Claire Alain, Pierre Cochereau, Jean Guillou…)
She then stayed in Italy for three years and has studied with renowned organists as Luigi Tagliavini and Fernando Germani, and harpsichord with Ferruccio Vignanelli.
Loving every major musical trends, close to current composers Françoise Rieunier created many works of contemporary music.
Professor at the Conservatoire International, concert soloist Radio France, the Orchestre de Paris and many festivals, student and assistant of Olivier Messiaen to Great Organs of the Trinity, holder for 27 years of the Great Organ of St. Odile.
She also made a film about Mozart produced by Pierre Bellemare for television and, at the request of the Ministry of Culture, an educational film on the organ, screened in all high schools in France.
http://www.orgues-trouville.org/interprete-francoise-rieunier.html