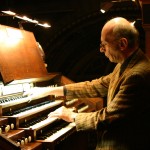 François-Henri Houbart was born Orléans in 1952.
He studied organ and improvisation with Pierre Cochereau, Michel Chapuis and Suzanne Chaisemartin ; Pierre Lantier taught him harmony and counterpoint.
In 1978 he was awarded the second prize in the International Lyon Improvisation competition.
Since 1979 he is appointed main organist at the prestigious Madeleine in Paris, succeeding Saint-Saëns, Fauré and Jeanne Demessieux.
From 1980 to 2000 he has been teaching organ at the Orléans National Music School ; then he has been appointed teacher at the National Regional Conservatory in Rueil-Malmaison where he is taking over from Marie-Claire Alain and Susan Landale.
François-Henri Houbart is member of the organ commission advising the Ministry of Education as well as the city council of Paris ; he is also member of the artistic committee for the international organ competition "Grand Prix de Chartres", and he is called to be juror in some of the most prestigious competitions.
François-Henri Houbart has given concerts – either recitals or concerts with orchestra – throughout Europe, but also in the USA, Canada and Japan.
Since 1979 he is playing in duo with the trumpet player Bernard Soustrot.
Playing as a soloist for Radio-France, he is participating in numerous TV transmissions in France and abroad.
Everywhere he is appreciated as one of the best interpreters of classical, romantic and contemporary repertory. But he is also considered a high-class improvisation performer.
François-Henri Houbart has made a lot of records. Some of them have been honoured with prizes such as the French President's Prize or the "Best CD of the year" awarded by the famous New York Times.
He has also written a book about the historic Great Organ in Orléans' Cathedral.
François-Henri Houbart is Chevalier des Arts et Lettres and the City of Paris awarded him the Vermilion Medal of Merits.
http://fr.wikipedia.org/wiki/Fran%C3%A7ois-Henri_Houbart