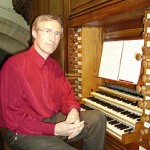 After brilliant general studies, François CLÉMENT, born in 1957, obtained in 1979 an engineer's diploma, then resolutely chose a career in music.
He studied the organ with illustrious masters such as Michel CHAPUIS, André ISOIR, Gaston LITAIZE and Louis THIRY and won several prizes in organ among which were a Gold Medal, a unanimous First Prize and the Concert Diploma (with merit).
Professor of organ at the National School of Music in the Haute-Loire, organist of the Cathedral of Le Puy-en-Velay, François CLÉMENT has made two organ recordings and participated in the inventory of organs in Auvergne.
He has performed many recitals especially in Paris (Notre-Dame, Saint-Germain-des-Prés, Festival Estival).