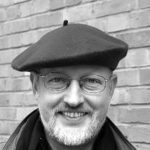 Eberhard LAUER, born in 1956, is musical director at the Cathedral of St. Marien in Hamburg and professor for organ music at the Academy of Music in Lübeck, being engaged as organist, choir master and teacher.
He studied the organ and church music at the universities of Aachen, Düsseldorf and Amsterdam (under Almut Rößler, Albert de Klerk, and Xavier Darasse, among others), as well as musicology and philosophy in Hamburg.
He also studied French organ music in master-classes with Marie-Claire Alain, André Isoir, Xavier Darasse and others…
Eberhard Lauer was awarded First prizes at organ recital competitions in Nürnberg and Speyer. In addition to the emphasis placed on the organ repertoire of the 19th and 20th century (performance of the complete works for organ by Mendelssohn, Schumann, Brahms, Franck, Messiaen, and large parts of the oeuvre by Liszt, Reger and Vierne), he is especially focussing on the works of J.S. Bach (several performances of the complete cycle of Bach's work for organ). He is also interested in the art of improvisation.
He is giving concerts in his home country Germany and abroad, and recorded of organ recitals for radio, disc and television.
Discography: Bach, Mendelssohn, Liszt, Widor, Vierne, as well as the complete works by Messiaen.