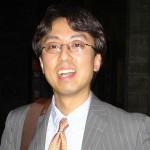 Organist Dong-Ill Shin, winner of the 20th Grand Prix de Chartres, has been hailed as "one of the world's most promising talents of his generation". He won first prize in the national competition for piano sponsored by the Korean Times at age ten. Attracted by J. S. Bach's Music and the orchestra-like colors produced by the organ, he began his studies with Dr. Sun-woo Cho at age 14. He studied with Dr. Tong-soon Kwak at Yon-sei University in Seoul and completed his Bachelor of Music degree in 1997.
He then studied in France with Jean Boyer and received the Diplôme National d'Etudes Supérieures Musicales from the Conservatoire National Supérieur de Musique de Lyon in Organ, Harmony, Fugue, Analysis, Improvisation & Basso-Continuo. His studies continued with Olivier Latry and Michel Bouvard at the Conservatoire National Supérieur de Musique de Paris in the prestigious Cycle de Perfectionnement program. He also undertook private studies with Mme Marie-Claire Alain for Organ and Mme Françoise Marmim for Harpsichord. During his years of study in France he won several scholarships including awards from the Dorazzi Foundation, the Meyer Foundation and Mécène de Société Générale. In 2004 he completed his Artist Diploma at The Boston Conservatory on a full scholarship studying with James David Christie.
Dong-Ill Shin is a prize winner of international Competition such as Musashino-Tokyo International Organ Competition in 1996, Ciurlionis International Piano and Organ Competition, Lithuania and The 51th Prague Spring International Music Festival and Competition in 1999, the 21st St. Albans International Organ Competition, Great Britain in 2001 and the Grand Prix de Chartres international Organ Competition in 2006. He has been a featured artist on KBS Radio in Korea, NHK Satellite Television in Japan, France Musique, Radio France & MEZZO Television in France, Lithuanien National Television, Hungarian National Radio, Spanish National Radio, Bayerischer Rundfunk radio, Radio Luxembourg, Australien 'Art and Sound' Radio and WCRB, UPR, KBYU and Pipedream in USA. He has given numerous concerts in France, Germany, Great Britain, Italy, Spain, Lithuania, Norway, the Czech Republic, Monaco, Luxembourg, Swiss, Netherlands, USA, Canada, Uruguay, Australie and in the Far East.