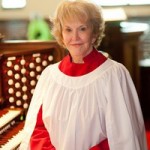 Christina Harmon resides in Dallas, Texas, where she is Organist at Park Cities Baptist Church, one of the largest in the area. She is a graduate of Oberlin Conservatory of Music and Southern Methodist University and has done doctoral study at Union Theological Seminary and the University of North Texas. Additional study has been at the Mozarteum in Salzburg, Austria. Her teachers have been Robert Anderson, Robert Baker, Dale Peters, Garth Peacock, Guy Bovet, Bernadette Dufourcet, Naji Hakim, Daniel Roth, and Jean and Marie-Louise Langlais.
Christina Harmon's pieces, published by Vivace Press, Plymouth Publishing Co., and Harmony Press, have been given outstanding reviews by several individuals and publications. Last year she received second prize in the U. S. Naval Academy composition competition, and in March, 2003 she was awarded first prize in the Potomac American Guild of Organists anthem competition. In addition, she is featured on three c.d.'s, the first as organist with the choir of St. Michael and All Angels Episcopal Church in Dallas ; the second as a composer on the c.d., "Summershimmer" on the Hester Park label, featuring organist Barbara Harbach playing new works by American composers ; and the third a c.d. of her own arrangements of Christmas carols for organ and trumpets entitled Christmas in Dallas. Her works have been performed in the U. S. and Europe by Marie-Bernadette Dufourcet and others.
As founder of the French Organ Music Seminar she has built the seminar, in which organists from all over the world convene in Paris to study French organ music at the great French churches and cathedrals, into a thriving event which last summer included over sixty organists. Since 1989, as an outgrowth of the seminar, she has been producing and editing videotapes in France, first of the last year of Jean Langlais' life, and more recently of the organs at Sainte-Clotilde and Saint-Sulpice, where Langlais, Franck, Tournemire, Widor, and Dupré were organists. These videotapes are remarkable for their coverage of French organs and organ music history and include Langlais playing and teaching at his home and at the Schola Cantorum, Marie-Louise Langlais teaching at the organ of Sainte Clotilde, and Daniel Roth explaining the organ and organists of Saint Sulpice. These videos are now available for sale through the Organ Historical Society.
In addition to her duties as Organist and Composer-in-Residence at Park Cities Baptist Church, a church of 9,000 members, she teaches organ for the Dallas County Community College District and maintains an active organ class. Her students come from all over the Dallas/Fort Worth area, and some have gone on to win awards and scholarships in organ.
In recent years Ms Harmon has been in demand as a workshop accompanist and has been invited to serve as the featured organist/composer at workshops and seminars. Christina was Jason Ranton's organ teacher at the time of his death.