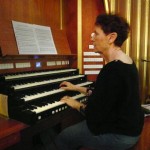 Chantal de Zeeuw is titular organist of Aix-en-Provence St-Sauveur Cathedral and conservatory. She is frequently invited in France and abroad to give recitals and to perform in orchestral concerts (Saint-Saens' Third Symphony, Poulenc's Concerto, Fauré's Requiem….)
Chantal de Zeeuw won the French Record Academy's grand prize in 1984 and 1985 for her recordings of the works of Franz Lizst and a series of works by French composera from "the Revolution to the Empire". She has recently recorded Darius Milhaud's Sacred Service as well as contemporary works.
She studied under Maurice Gay, Jean Langlais, Jean Costa, Daniel Roth and Louis Robilliard at the conservatories of Aix, Marseille, and Lyon, and at the Schola Cantorum in Paris. She has taken masterclasses with Marie-Claire Alain, Pierre Cochereau and Jean Guillou.