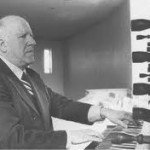 Antoine Reboulot. Organist, pianist, teacher, composer, (Decize, Nièvre, France, Dec. 17, 1914 – Montreal, July 11, 2002, naturalized Canadian 1978) ; first prize in organ (Cons national de Paris) 1936, first prize in composition (ibid) 1947.
In Paris he studied at the Institut national pour les jeunes aveugles and later with Marcel Dupré (organ), Henri Busser (composition), Georges Caussade (counterpoint), and Simone Plé (fugue) at the conservatory.
In 1939 he won the grand prize for improvisation and performance at France's Société des Amis de l'orgue. Antoine Reboulot taught piano and pedagogy and was organist successively in Perpignan, in Versailles, and at St-Germain-des-Prés in Paris where he succeeded his teacher André Marchal in 1946. He performed as a pianist and organist in France and several other European countries and in Canada and the United States.
In 1967 Antoine Reboulot settled in Quebec, where he taught piano at the Conservatoire de Trois-Rivières (1967-70) and the CMQ (1970-72). He also taught improvisation, piano, organ, and keyboard harmony at Laval University (1970-78) and the University of Montreal (1972-89).
Antoine Reboulot gave many organ and piano recitals in Ontario and Quebec and took part in the Ars Organi series and the summer concerts at Saint Joseph's Oratory in Montreal. Some ten of his compositions for organ appeared in publications of the Paris Schola cantorum ; he also wrote piano works and chamber music. He recorded his own Variations sur le nom d'Henri Gagnon (published by Ostiguy in 1987 in Le Tombeau de Henri Gagnon ) on an Alpec LP (see Discography). In 1979, the CBC commissioned him to write "O Crux Ave" for instrumental ensemble, choir, speaker, and organ, recorded by CBC ensembles directed by Raymond Dessaints.
His Choral orné sur le "Pater Noster" for organ was also recorded by Jean-Guy Proulx. He wrote hommage to Louis Vierne with his Cinq Préludes (1992) that he recorded three years later.
In January 1995, he was promoted to the rank of Chevalier in the Ordre national de la Légion d'Honneur for services rendered to French music abroad. In 1998 he was named an "honorary member" of the Fédération québécoise des amis de l'orgue. In 1999 the Festival de Lanaudière presented a concert in his honour, in the course of which his Trio for violon, violoncello and piano was presented for the first time.
Jean-Guy Proulx, Antoine Bouchard, Victor Bouchard, Lise Boucher, Gilles Manny, Renée Morisset, and Sylvain Caron numbered among his pupils.
http://www.thecanadianencyclopedia.ca/en/article/antoine-reboulot-emc/