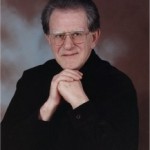 Antoine (Rodrigue Albert) Bouchard. Organist, teacher, b St-Philippe-de-Néri, near Quebec City, 22 Mar 1932; BA (Laval) 1952, L TH (Laval) 1956.
He studied 1942-3 with Yvette Michaud, 1944-9 and 1952-6 with Claude Lavoie, and 1950-2 with Father Léon Destroismaisons. After ordination as a priest in 1956 he continued his studies 1958-61 in Paris with Gaston Litaize, Antoine Reboulot, and Simone Plé-Caussade. Upon his return to Canada he taught at the Collège de Ste-Anne-de-la-Pocatière and joined the staff at Laval University in 1961 where he was director 1977-80 of the School of Music. Bouchard has performed as an organist in the USA, France, and especially eastern and central Canada. In 1974 he took part in the recording of Hommage à Henri Gagnon on which he performed his own compositions Postlude and Messe de Requiem. Ostiguy published the latter piece (retitled In Paradisum) and a Prélude in the collection Le Tombeau de Henri Gagnon in 1987.
Bouchard was heard 1975-6 on the French network of the CBC in a series of concerts given on 20 historical organs in 6 European countries. A founder-member of the Amis de l'orgue de Québec, he wrote on the subject for numerous music journals, and helped re-establish the Canadian organ-building industry through his activities as a consultant in the construction of several organs in eastern Canada. He has written for EMC.
Reviewing his 1974 recording of French carols, Jacob Siskind wrote in the Montreal Gazette (11 Jun 1977) : 'These are all by their very nature short pieces, few taking more than five minutes, and it is here that Bouchard is most effective. The charm of these folksy miniatures has been captured with great effectiveness and the variety of sound possible on the organ has been highlighted very cleverly'.
Bouchard became a member of the board of the Canadian Music Council in 1978.