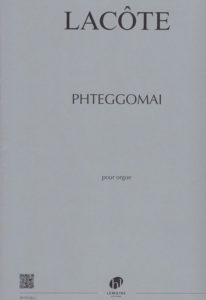 The work ordered with the composer Thomas LACÔTE by the association des grandes orgues de Chartres for the finales of the 26th international competition of organ, is available.
To obtain it, the candidates can as of now contacting the secretariat of association by e-mail or mail *, while specifying:
– their name and first name
– their postal address.
Only 1 specimen by postal sending, candidate.
The partition is available only near association, free.
* Secrétariat du Concours international d'orgue de Chartres / 22 cloître Notre-Dame / 28000 CHARTRES, France