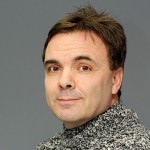 The French baritone Jean-Louis SERRE, began his career at an early age in the boys' choir at his school. He later studied at the Tûbingen and Heidelberg Universities, Germany, but was soon drawn back by his love for music and studied singing at the Paris Conservatoire, (Conservatoire National Supérieur de Musique de Paris), where he studied with Jane Berbié, Rémy Corazza and Marie Claire Cottin ; after which he very quickly joined the musical profession.
Of all the singing repertoire, it is on the operatic stage that Jean-Louis Serre demonstrates his wonderful singing and acting talents and his captivating stage presence.
He makes regular appearances at the Paris concert halls (Le Châtelet, Les Champs Élysées, l'Opéra Comique) and also in Nancy, Toulouse, Tours, Avignon, Angers, St Étienne and the "Grand Théâtre" Geneva, where his unique vocal timbre and strong stage presence are always highly praised.
His approach to Oratorio is highly enthusiastic and intensely personal ; his early experience in the boys' choir giving him great insight into this repertoire.
He sings with both well known professional and amateur orchestras alike, including: Orchestre National de Lyon, Orchestre National de Lille, Choeur de Radio France, etc…. Among works he has performed are : Brahms's German Requiem, Duruflé's and Fauré's Requiems; the Cantatas, Passions and Masses by Johann Sebastian Bach, Rossini and Mendelssohn…
Jean-Louis SERRE has worked with Marc Minkowski, Christophe Rousset, Jean-Claude Malgoire, Hervé Niquet, Philippe Herreweghe…
He has starred as Escamillo in Bizet's Carmen, and as the Count in Mozart's "The Marriage of Figaro". He has formerly appeared in Verdi's Don Carlo at the Orange Music Festival, Puccini's Mme Butterfly at Avignon ; also at the Avignon Festival in the musical comedy Titanic by Yeston, and in Nantes in Viva la Mamma by Donizetti. He made his stage début in Geneva's Grand Théâtre as Aeneas in "Dido and Aeneas" by Purcell, conducted by Hervé Niquet. He has also taken part in a Moscow production based on the La Fontaine Tales by Lecoq, Offenbach and d'Ormesson. As well as these engagements he has frequently performed sacred music.
He is singing teacher certified to the CRD of the Val Maubuée and a professor of opera in the CRM of Levallois.