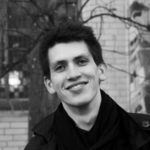 The young organist Hendrik BURKARD studies at Paris conservatory in the class of Michel Bouvard and Olivier Latry. He has won the Organ competition of Toulouse 2017 (Xavier Darasse) "ex-aequo" and the Boellmann-Gigout competition in Strasbourg 2019.
Born 1996 in Cologne, Burkard received his first organ-lessons at the age of 9. In 2010 he entered the organ-class of Johannes Geffert at "Musikhochschule Köln".
5 years later he become a student at the conservatory of Paris where in 2018 he obtained his Bachelor degree with the highest possible note.
Hendrik Burkard currently studies improvisation under Thierry Escaich and Lazzlo Fassang and continues his Master-studies in the class of M. Bouvard and O. Latry.
Apart from his solo-classes Burkard studies the art of "basso-continuo" in the class of Thierry Maeder.
During his studies he also had opportunity to work with other famous artists including Louis Robilliard (Lyon) and Nicolas Kynaston.