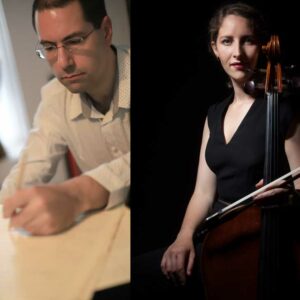 Louison Crès-Debacq began playing the cello at an early age at the Marseille Conservatoire.
Her curriculum includes several unanimous First Prizes in Marseille and Paris, a Master's degree at the Conservatoire National Supérieur de Musique (CNSM) in Lyon and a Master's degree at the CNSM in Paris with the "Trio L", who regularly give concerts in France, also as guest soloists.
She is the dedicatee of Philippe Chamouard's Cello Concerto Entre Source et Nuage, premiered with the Orchestre Symphonique du Campus d'Orsay.
She works with many orchestras and ensembles, including the Orchestre National de Lorraine, the Orchestre National d'Auvergne, the Orchestre de Chambre de Nouvelle Aquitaine, the Lyon opera, the Saint-Étienne opera, Les Frivolités Parisiennes… but mainly with the Philharmonic Orchestra of Radio-France (numerous concerts at the Radio France auditorium, Pleyel hall, Musikverein, Philharmonie de Paris, as well as abroad under prestigious conductors: Myung-Whun Chung, Gustavo Dudamel, Mikko Franck…).
Her artistic life has taken her all over Europe (Austria, Germany, Italy, Romania), as well as to Russia, England, Norway, Japan and the United Arab Emirates.
She also takes part in variety shows for France 2.
Her 1st album Impressions d'ici et d'ailleurs with "Trio L" (released in April 2022 on the Inouïe Distribution label) is devoted to French music.
In May 2022, still with the "Trio L", she performs Beethoven's famous Triple Concerto in a series of concerts around the composer.
Louison Crès-Debacq plays a Paul Bailly cello from 1879 .
Jean-Charles Gandrille studied at the Conservatoire National Supérieur de Musique de Paris, where he won prizes in orchestration, harmony, counterpoint, fugue and forms, analysis, and organ improvisation with Thierry Escaich and Philippe Lefebvre.
At the same time, he took up the violin and cello. He also studied at the Conservatoire à rayonnement régional de Paris with Marie-Louise Langlais and Sylvie Mallet, and at the Saint-Maur-des-Fossés regional conservatory with Éric Lebrun.
Between 18 and 20, he was a grand prizewinner at the international improvisation competitions in Chartres (2000), Saarbrücken (2001) and Nüremberg (2002). He also studied and worked with composer Jean-Louis Florentz in Nice in 2001 and 2002.
He has won several international Grand Premiers Prix for his compositions: Valentino Bucchi in Rome in 2001, Orchestre Français de Flûtes in Paris in 2002, and Composition for Organ in St-Bertrand de Comminges in 2006.
He has received orders from the Qatar Philharmonic Orchestra (released on CD by Paraty in 2015), and from Notre-Dame de Paris for his Magnificat premiered in 2016 in this cathedral (released in 2020 on CD by Warner Classics).
In 2019, the Piano Campus international competition in Pontoise commissioned him to write the compulsory work Danses de la nuit for piano and orchestra. His Oratorio de Noël, commissioned by Trio K/D/M, premiered in December 2021 with the Maîtrises d'enfants of the cathedrals of Paris and Lyon, and was revived in December 2022 at the Wallonia Royal Opera in Liège. It will be performed in December 2023 at Fontevraud Abbey with the Trio K/D/M. His Stabat Mater was the last polyphony sung before the fire at Notre-Dame de Paris. His Livre pour violoncelle, written for cellist Gautier Capuçon's 40th birthday, was published in April by Billaudot.
Jean-Charles Gandrille is appointed organist at the famous Notre-Dame de l'Assomption church in Auvers-sur-Oise, and takes part every year in the no less famous International Music Festival.