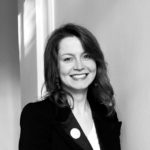 Organist, harpsichordist, and musicologist, Anna Homenya was awarded the First Prize for organ and harpsichord at the Rimsky-Korsakov Conservatory in St. Petersburg in 2013. She completed her PhD (musicology) in 2013, with a book on the Symphonies of A. Bruckner.
She participated in master classes of H.Fagius, M.Bouvard, L.Robilliard, W.Zerer, H.Davidsson, P.Van Dijk (organ) and C.Stembridge, C.Rousset, A.Staier, S.Sempé (harpsichord).
In 2017 she finished her studies at the CRR of Paris in the organ class of Christophe Mantoux and in the harpsichord class of Noëlle Spieth.
Anna Homenya was among the five finalists of prestigious organ competitions in Luxembourg (Dudelange) in September 2017.
She performs in concerts in places like the Academic Chapel in St. Petersburg, Church of St. Severin, St. Gervais, St. Augustin, des Billettes in Paris, Marienkirche in Stralsund (Germany).
Since 2018 she is a member of the baroque music ensemble "Quadrivium" as an accompanist (organ and harpsichord continuo). The ensemble was in partnership with the Musée des Arts et Métiers for the 2018-2019 season and proposed a program of four concerts on the subject "Compositrices en lumière".
Anna Homenya founded "The Show of Hands" – a harpsichord duo with harpsichordist Tatsiana Khalevo in 2017. Their first concert program in Minsk Philharmonic (Belarus) was devoted to F. Couperin and French music.
With Camille Déruelle they play four hands and four feet at the Festival "Les Heures d'orgue" (summer 2019) in Annecy or in Paris (Festival "Komm, Bach" in February 2020).
In May 2019 she participated in the opening concert of the festival "Paris les Orgues". In November 2019 Anna played at the organ festival "La musica del cielo" in Elche (Spain).
Anna Homenya teaches piano, organ and music theory at the Russian School of Arts in Paris. In the summer of 2019 she was a guest organ teacher at the University of St.Andrews (Scotland) during "Organ Week".
She made her UK debut with the concert in Leven on a historic organ by August Gern, disciple of A.Cavaillé-Coll.
The beginning of 2020 was marked by the release of a CD (Naxos) with works for harp and organ and orchestra by Boris Tishchenko (1939-2010).
Anna Homenya is currently organist at the Sankt-Albert church and at the Billettes church in Paris.