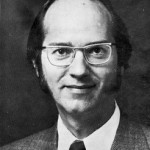 Walter Hillsman stood out on both sides of the Atlantic. At the age of seventeen he won a scholarship for four years of organ studies under the direction of Alexander McCURDY the Curtis Institute of Music in Philadelphia. A year later, he was appointed organist and choirmaster at the Old Christ Church Philadelphia Church, a position he held until the end of his studies in this city.
In 1964 he was voted "organ scholar" of New College, Oxford University. He was the first American to receive the award at the Universities of Oxford and Cambridge. For three years he studied as an assistant to David LUMSDEN in Oxford on a scholarship from the Keasbey Memorial Foundation, before continuing his studies for two years in Munich under the direction of Professor Karl RICHTER as a Fulbright Fellow. He continued his private study with Marie-Claire Alain and Jean LANGLAIS.
Walter Hillsman is the master of arts from the University of Oxford, Bachelor of Music (BMus.) From the Curtis Institute of Music in Philadelphia and "Fellow" graduate of the Royal College of Organists.
Walter Hillsman has given organ recitals in many famous churches (Westminster Abbey, the Abbey of St Albans, Notre-Dame de Paris, the Washington Cathedral, the Church of St. Thomas, Fifth Avenue, and Cathedral of St. John the Divine, New York), in world-class universities (Columbia, Edinburgh, Glasgow and Oxford) and Music Festivals (including Orgeltage Düsseldorf International Music Festival and the North Wales). He has given recitals broadcast on Radio France and the BBC and recorded discs in England in Vista (VPS 1038) and Germany among Telduc (TST 66 21 311).
Currently he is professor of organ at Trinity College of Music, London, lecturer at the University of Reading and organist holder of the St. Margaret Church, Oxford.