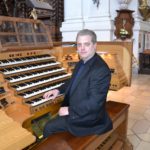 Stephen THARP, hailed as "the organist for the connoisseur" (organ – Journal für die Orgel, Germany), "the thinking person's performer" (Het Orgel), "every bit the equal of any organist" (The American Organist magazine) and "the consummate creative artist" (Michael Barone, Pipedreams), is recognized as one of the great concert organists of our age.
Having played more than 1400 concerts across 50 tours worldwide, Stephen Tharp has built one of the most well-respected international careers in the world, earning him the reputation as the most traveled concert organist of his generation. He is listed in Who's Who in America and Who's Who in the World, and has been given the 2011 International Performer of the Year Award by the New York City chapter of the American Guild of Organists. In May 2015, he was given the Paul Creston Award which recognizes artistic excellence by a significant figure in church music and the performing arts.
His list of performances since 1987 includes such distinguished venues as St. Bavo, Haarlem; St. Eustache, Paris; Ste. Croix, Bordeaux; The Hong Kong Cultural Centre; the Town Halls of Sydney and Adelaide, Australia; Tchaikovsky Hall, Moscow; the Tonhalle, Zürich; the Duomo, Milano, Italy; the cathedrals in Berlin, Köln, München, Münster, Passau und Monaco, and the Gewandhaus, Leipzig, Germany; the Frauenkirche, Dresden; Igreja da Lapa, Porto, Mosteiro dos Jerónimos, Lissabon; Antwerp Cathedral, Belgium; Dvorak Hall, Prague; the Hallgrimskirkja, Reykjavik, Iceland; The Morton H. Meyerson Symphony Center, Dallas; Walt Disney Concert Hall, Los Angeles; The Kimmel Center, Philadelphia; The Riverside Church, New York City; Rice University, Houston; Spivey Hall, Atlanta; and Severance Hall, Cleveland.
He has given master classes at Yale University; Westminster Choir College; the Cleveland Institute of Music, Bethel University (St. Paul, MN), Rice University (Houston, TX); the Hochschulen für Musik in Stuttgart, Trossingen and Bochum (Germany); and for chapters of the American Guild of Organists. He has also adjudicated for competitions at the Juilliard School and Northwestern University.
Stephen Tharp remains an important champion of new organ music, and continues to commission and premiere numerous compositions for the instrument. The first such piece was Jean Guillou's symphonic poem Instants, Op. 57, which Tharp premiered at King's College, Cambridge, England in February 1998. Works dedicated to him include George Baker's 'Danse Diabolique' (2016) and Variations on "Rouen" (2010); David Briggs' 'Toccata Labyrinth' (2006); Samuel Adler's 'Sonata' (2005); Eugenio Fagiani's 'Psalm 100' (2009) and 'Stèle' (2003); Thierry Escaich's 'Trois Poèmes' (2002); Philip Moore's 'Sinfonietta' (2001); Anthony Newman's 'Tombeau d'Igor Stravinsky' (2000), 'Toccata and Fuga Sinfonica on BACH' (1999) and the 'Second Symphony' (1992); Martha Sullivan's 'Slingshot Shivaree for Organ and Percussion' (1999); and Morgan Simmons 'Exercitatio Fantastica' (1997).
Himself a composer, Tharp was commissioned by Cologne Cathedral, Germany to compose for Easter Sunday, 2006 his 'Easter Fanfares' for the inauguration of the organ's new en chamade Tuba stops, as well 'Disney's Trumpets', composed in February 2011 for the organ at the Walt Disney Concert Hall, Los Angeles, where it was premiered by the composer the following month.
In April 2008, Stephen Tharp was named the Official Organist for the NY visit of Pope Benedict XVI, playing for three major events attended by more than 60,000 people that were broadcast live worldwide. Mr. Tharp's playing has also been heard on both English and Irish national television, on Radio Prague, orgelnieuws.nl in the Netherlands, and in the U. S. on American Public Media's Pipedreams. In both 2005 and 2011, Pipedreams broadcast entire programs dedicated exclusively to his career, making him one of the few organists in the world so honored.
He is also an active chamber musician nationwide, having performed on organ, piano and harpsichord with artists such as Thomas Hampson, Itzhak Perlman, Jennifer Larmore, Rachel Barton Pine, the American Boychoir (James Litton, conductor), the St. Thomas Choir (John Scott, conductor, in Duruflé's Requiem), and at Carnegie Hall, the Metropolitan Museum of Art, Alice Tully Hall and Avery Fisher Hall at Lincoln Center.
His commercial release The Complete Organ Works of Jeanne Demessieux on Aeolus, received the 2009 Preis der Deutschen Schallplattenkritik, Germany's premier critic's prize for recordings, as well as the French 5 Diapason award. The release was celebrated in October 2010 with Mr. Tharp's performance of the complete Demessieux works live over three concerts at New York's Cathedral of St. John the Divine. Stephen Tharp plays St. Bavo, Haarlem, The Netherlands on the JAV Recordings label was called "the most beautiful CD of 2009" by Resmusica in France.
Stephen Tharp earned his BA degree, magna cum laude, from Illinois College, Jacksonville, IL and his MM from Northwestern University, Chicago, where he studied with Rudolf Zuiderveld and Wolfgang Rübsam, respectively. He has also worked privately with Jean Guillou in Paris.