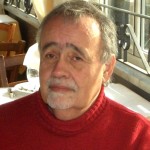 Stefano Innocenti (Florence, Italy) holder of the organ Serassi eighteenth century Colorno, gave concerts as harpsichordist, throughout Europe, the United States, Canada, Brazil and Japan.
He played for the opening of many restored historic organs, including those of San Petronio in Bologna and Gabler Weingarten, he recorded several albums, some of which are dedicated to Andrea Gabrieli in solo concerts Haydn (for organ and harpsichord), Haendel concertos for organ and orchestra Paër and Salieri, recent compositions and Riccardo Castagnetti, harpsichord, all sonatas Giovanni Benedetto Platti.
He teaches organ and composition at the Conservatory of Parma, he taught at the Academy of the interpretation of Pistoia, Romainmôtier (Switzerland) and Toulouse. He was a member of the jury in international interpretation competition, composition and improvisation. Member of the Jury Grand Prix de Chartres 1982.
He lives between Parma and Arcola (La Spezia).