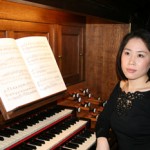 Saki Aoki was born in Tokyo and began her piano studies at the age of six. She first studied organ under Keiko Utsumi, and then became a pupil of Masaaki Suzuki at the Tokyo National University of Fine Arts and Music (Tokyo Geidai) where she obtained both her Bachelor and Master of Music degrees with top honors. While still a graduate student, she decided to broaden and diversify her studies in France. For two years she studied in the Advanced Studies Program under Éric Lebrun at the St Maur Conservatory where she obtained the André Monsaingeon Prize and the J. S. Bach Prize for the best interpretation of a J. S. Bach work, as well as the 1st Prize in Organ with top honors in 2006.
She further enriched her studies as a pupil of Erwan Le Prado at the Conservatoire National de Région in Caen where she obtained the Advanced Studies Diploma with top honors.
During her studies she was able to distinguish herself in several international competitions, notably by winning the Diplôme d'honneur of the International Organ Competition in Bruges, 1st Prize in the Grenada International Competition, 1st Prize in the 2007 Jean Louis Florentz Competition in Angers, 2nd Prize in the 2007 Nürnberg International Competition, and the First Prize in interpretation, the Audience Award and the Gaston Litaize Special Prize in the 2008 Grand Prix de Chartres She is also the recipient of a two-year scholarship that is awarded to promote young artîsts from the Japanese Agency for Cultural Affairs
She has given numerous recitals in Japan, France, Germany, UK, Italy, Hungary, Spain and Canada. She has recently recorded a CD of French 20th century music in Chartres Cathedral. In addition to her extensive concert career, she is currently a teacher at th, Ecole de Musique de Saint Lô in Normandy, and serves as organist at the Saint Pierre an, Saint André churches in Caen.