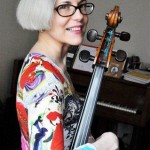 Odile BOURIN began studying the cello with Alain Meunier. She integrates to 11 years the Paris National Conservatory of Music in Music Theory Specialized. She later obtained a first Cello Prize unanimously in 1981 in the class of Philippe Muller. She then searches the advice of Anner Bijlsma at the Royal Conservatory in The Hague (Netherlands), and follows for 2 years during the great teacher Harvey Shapiro at the Juilliard School of Music in New York.
His experience at the Strasbourg Philharmonic Orchestra, Orchestre de Paris, I Solisti Veneti… allows her to play under the direction of renowned conductors. But in 1989, she decided to devote herself to chamber music, mainly in duo, trio and sextet with piano, as well as teaching.
At the CRD Chartres where she taught from 1990 to 1996, and where she has as colleague Patrick Delabre.
Currently professor at the Conservatoire Hector Berlioz in Paris Xth, she is regularly invited to participate in juries or master classes in France, in Kobe, Japan in Brescia in Italy, or Buenos Aires, Argentina.
Moreover, she is the author of "Cello method for beginners" authoritative (3 volumes) as well as "The ranges cello" published by Editions Henry Lemoine, Paris.
She occurs in France : Les Arcs, Ansouis, the ANMC Nancy, Salzburg, Colmar, Saint-Die-des-Vosges, Saint-Pierre-sur-Haste, Vals, Tournus, Vannes, Rouen, Bourges…
Many tours lead the in Germany, Switzerland, Italy, United Kingdom, Russia, USA, Japan, China, Australia… She is invited to "Love 1000 cellos" in Kobe in 2001, in 2010 Hiroshima, Sendai 2015.
Her partners have been or are Armin Jordan, Felicity Lott, Theodore Paraskivesco Bernard Cazauran, Armine Varvarian…
Her recordings highlight the unsung directories – in chamber music (Martinu, Novak, Delage, Koechlin…) – and/or piano (sonatas and works by French cellists) – as in cello-bass duo.
Odile Bourin plays a cello Landolfi.