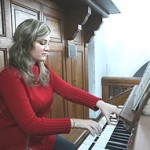 Marion André studied violin and piano in the city Chauny (North of France) then in the "Conservatoire de Région" in Paris where she learned with Emmanuel Mercier and won a first prize in piano. She studied organ in Paris with Christian Ott and also violon with Eichi Chijiwa and piano with Pascal Godart. She won the "Perfectionnement Diploma" in piano in the International Conservatory of Music in Paris.
In the same time she was appointed organist of Notre-Dam Church in the city of Chauny.
She won the first prize of organ in the Zontac club and studied in the highest degree with Eric Lebrun in the conservatory of the city St Maur-des-fossés and harmonie with Thibault Perrine in "Conservatoire Régional de Paris".
Since 2010 she is a student in piano in Royal Academy of Music, London, with the maestro Pascal Nemirovski.