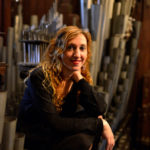 Loreto ARAMENDI started her studies at the Conservatoire of San Sebastian where she obtained higher degrees in piano, harpsichord, organ and chamber music with Loreto F. Imaz, Esther Mendiburu and Cristina Navajas.
She studied organ at the National Regional Conservatoire of Bayonne with Bernadette Carrau and Esteban Landart, receiving the Gold Medal and the First Prize upon completing the Advanced Degree course.
Entering into the National Higher Conservatoire of Lyon (C.N.S.M.D), she worked with Jean Boyer, Louis Robilliard, J. Von Oortmersen and Liesbeth Schlumberger, obtaining the First Prize with "Mention trés bien" and her National Diploma of Advanced Studies with specialisation in the organ.
She was awarded scholarships from the local government of Guipuzkoa for two years, as well as from the Lartundo Foundation.
She then furthered her studies over a period of five years at the National Regional Superior Conservatoire in Paris with Noëlle Spieth, receiving the First Prize upon finalizing her Advanced Degree in the harpsichord and her General Music Studies Diploma. At the same time, she worked with J. Rouvier, on piano specialization.
She studied the piano for three years in Barcelona with Edith Fischer and Jorge Pepi. She has completed advanced courses with professors such as M. Radulescu, J. Oortmersen, W. Jansen, D. Moroney, R. Requejo, Roberto Szidon, Claudio Brizzi and Sakharov, amongst others. She has given numerous recitals at international festivals in Spain, Italy, Netherlands, Belgium, Argentina, USA, UK and France.
She has collaborated with the Basque Symphony Orchestra for many years, with whom she has recorded two discs. She gives concerts as a soloist and as part of different groups as an organist, pianist, and harpsichord player, embracing all periods and styles into her repertoire. At the same time, she has a degree in Psychology from the University of the Basque Country (UPV).
Loreto Aramendi is currently a professor at the F. Escudero Conservatoire in San Sebastian and main organist of the Cavaillé-Coll organ ( 1863) of the Basilique of Santa María del Coro. Interested in the pipe organ building process, she has collaborated and participated since 2014 in several works of organ restoration in France and Spain.
In 2015 she published a double CD recorded on the Cavaillé-Coll organ (1863) of the Basilique of Santa María del Coro with works by C. Franck, F. Liszt, J. Brahms and Ch. Tournemire, which received the 4 stars award from "Choir & Organ" Magazine, and was acclaimed by "The Sydney Organ Journal".
Her commitments for the next years include recitals in Japan, USA, France, Spain, Italy, Germany and Norway.