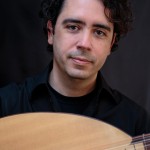 Fabricio MELO – luth Renaissance
Born in Brazil, Fabricio Melo graduated in guitar at the University of Brasilia and master of musicology at the Federal University of Minas Gerais – Brazil.
Enthusiast early music and period instruments, he devoted himself to the study of the lute, theorbo and old guitars.
In France since 2009, he continued his studies at the CRR in Paris, in the lute and theorbo class of Charles-Edouard Fantin, and CRR of Tours in the lute class and gittern Pascale Boquet. He then perfected with Claire Antonini Conservatory Chelles.
He performs as a soloist and also as accompanist with several music ensembles Renaissance and Baroque.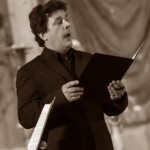 Nicolas LHOSTE – tenor
Born in Chartres, at the age of 8 he began singing in the choir of the Cathedral of Chartres and studying piano and clarinet at the Conservatory of Chartres. He continued his training in other choirs such as the Maîtrise of Hauts-de-Seine or the Opera Children's Choir of Paris and participating in major operas (La Bohème, Pagliacci, Othello, Turandot) and meeting figures of music (Jon Vickers, Luciano Pavarotti, Michel Plasson). He is formed for the song by Francis Bardot and Roger Thirot.
Past male voice he continues to sing in various formations (Choir of the French Army, Choir or French Opera), and creates in 1991 the Ensemble Fulbert (male choir specializing in early music).
Today he sings in sets variable workforce as "Christopher Simpson Consort" or "Musica Sacra" for the Baroque repertoire or "The Maurache" for the medieval repertoire. He is regularly hired as extra in the opera houses of France (Montpellier Opera, Opera de Strasbourg) and working with big names in music (F.-R. Duchable, R. Alagna, T. Koopman, J.-C. . Casadessus, L. Foster, A. Altinoglu…).
Holder of the professional card cantor, in 2006 the Rector of the Cathedral of Chartres gave him the post of cantor and musical coordinator.
He regularly participates in official ceremonies and commemorative of the city of Chartres. Nicolas Lhoste was promoted Chevalier des Arts et Lettres in February 2015.
——
Pierre CERTON 1515-1572
Born in Châtillon-sur-Loing in 1515 (?); Died in Paris February 23, 1572, he represent the Parisian school of the sixteenth century. He is famous for its polyphonic songs courteous. Clerc matins (clericus matutinorum) in Notre-Dame de Paris (1529), cantor at the Sainte-Chapelle (1532), where he became master of the young choristers to 1542, he was appointed perpetual chaplain in 1548, and in 1560, he is under-canon at Notre-Dame de Melun. Ronsard (1524-1585) declares Certon as 'student of Janequin' (1485-1558).
True church musician, Pierre Certon seems to have been linked to personally and musically to Claudin de Sermisy (1490-1562), because he dedicated to him his second book of motets, published in 1542. It is likely that Pierre Certon had played his Requiem Mass and the lament for his friend and teacher who was buried in the lower chapel of the Sainte-Chapelle. The written lament for 6 voices, was published in "Meslanges of The master Pierre Certon" in Paris in 1570.