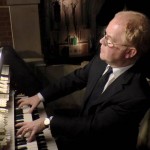 John Scott was born in Wakefield in 1956, where he became a Cathedral Chorister. While still at school he gained the diplomas of the Royal College of Organists, winning the major prizes. In 1974 he became Organ Scholar of St. John's College, Cambridge, where for four years he acted as assistant to Dr. George Guest and held the University John Stewart of Rannoch Scholarship in Sacred Music. His organ studies were with Ralph Downes and Dame Gillian Weir : On leaving Cambridge he was appointed Assistant Organist at London's two Anglican Cathedrals, St. Paul's and Southwark, playing three days of the week in each. During this time he won the first prizes from the Manchester and Leipzig J. S. Bach International Organ Competitions in 1978 and 1984 respectively. In 1985 he left Southwark to work solely at St. Paul's Cathedral, where in 1980 he succeeded Dr. Christopher Dearnley as Organist and Director of Music.
Under his direction, the St. Paul's Cathedral Choir has toured in France, Holland, Spain, Japan and twice in the USA ; it has embarked upon two widely admired series of recordings, one of English Cathedral music and another of Psalms, both for Hyperion Records, and works frequently with such orchestras as the City of London Sinfonia, London Mozart Players, London Symphony Orchestra and Royal Philharmonic Orchestra. Francis Grier, Robin Holloway, William Mathias, Robert Saxton, John Tavener, Jonathan Harvey, James MacMillan and Hugh Wood have all composed works commissioned for the Choir in recent years.
As an organist John Scott is particularly known for his performances of large-scale romantic and twentieth century repertoire and has premiered many new works written especially for him by Peter Eben, William Mathias, Kenneth Leighton, Charles Camilleri, Francis Pott and David Bedford. In addition he also performs from the earlier organ repertoire, and has appeared as a soloist with the Academy of Ancient Music, The Tallis Scholars and the King's Consort.
His career as a recitalist has taken him to five continents. In November 1983 he inaugurated the new Rieger organ in Hong Kong Cultural Centre and in 1990 he was one of five international Cathedral Organists invited to play in Washington Cathedral to celebrate the completion of the Cathedral.
He has many recordings to his name and has recently recorded the organ sonatas of Elgar, organ music by William Mathias, the complete organ works of Duruflé and Mendelssohn and also, with the London Symphony Orchestra, the solo organ part in Janacek's Glagolithic Mass.