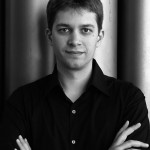 Jean-Baptiste Dupont enjoys a musician international career. He performed in several European countries, in the USA and in Russia, in prestigious venues. He has a broad repertoire ranging from the Renaissance to the present days. Continuing in the traditions of César Franck, Jean-Baptiste Dupont has been hailed as one of the greatest young improvisers on the organ. He is a frequent guest performer at several international festivals, radios, etc… As a specialist of improvisation, he's regularly invited to give Masterclasses and Workshop on that field. He has been a Jury member in competitions in France, USA and Germany.
Born in 1979, Jean-Baptiste Dupont began his musical strudies at the piano. He discovered the organ later, at the age of 12, and began studies at the Institute of Sacred Music of Toulouse. He graduated with distinction from the organ department at the Conservatoire in Toulouse. As one of the top alumni of the Conservatoire, he was awarded the Francis Vidal prize by the city of Toulouse in 2006 and subsequently continued his studies at the Centre d'Études Supérieures de Musique et de Danse in Toulouse where he obtained performing and teaching diplomas. Jean-Baptiste Dupont's organ, improvisation, harpsichord and piano teachers included Michel Bouvard, Louis Robilliard, Philippe Lefebvre, Jan Willem Jansen and Thérèse Dussaut.
He was finalist and laureate in many organ competitions, both in interpretation and improvisation. He won the 1st prize (improvisation) in St-Albans international competition in July 2009 ; the 2nd prize + audience prize in "Mikael Tariverdiev" competition in Kaliningrad, Russia, 2009 ; and the 3rd prize in "Xavier Darasse" international competition (Toulouse, France) in October 2008.
He is recording the complete Max Reger's organ works for Hortus Editions. The volumes released so far have been acclaimed by international press.
Jean-Baptiste Dupont was appointed organiste at Bordeaux Cathedral after a competition which took place in April 2012.