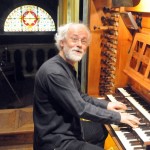 Jan Willem Jansen was born in Holland.
In 1977 he graduated as soloist at the Royal Conservatory of the Haye, then he improved the harpsichord playing, in Amsterdam. He went to France to work with Xavier Darasse and became his pedagogical collaborator at the Toulouse Conservatory. Here he contributed to the ancient music department's foundation and collaborated with Michel Bouvard for the new Organ superior department.
He played with the best baroque ensembles and became the titular of the Augustins' Museum and Notre-Dame de la Daurade Basilique's organs.
He recorded many CDs and, in 1996, he founded with Michel Bouvard the "Festival International Toulouse les Orgues".