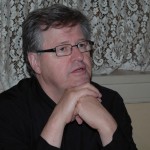 Jacques Boucher studied the organ with Antoine Bouchard at the School of Music of the University Laval in Quebec City.
He went on to work with the French musician Antoine Reboulot.
In 1994. he was awarded a professional development grant by the Conseil des Arts du Quebec.
Jacques Boucher is both a musician and a broadcaster. He has been a driving force in the world of the organ in Quebec, producing over 1500 recitals for Radio-Canada, where he has been a producer sine 1972.
In 1984, he was named to a three-year position as director of musical programmes for Radio-Canada's radio network.
Since September 1991, he has chaired the music commission for the Communauté des Radios Publiques de Langue Française.
Jacques Boucher has served as artistic director for more than 100 recordings. The collection entitled 'Les orgues anciens du Québec', recipient of the Grand Prix du Disque du Canada, was produced under his direction. For this release, he played the Mitchell organ in the church at Saint André de Kamouraska.
Jacques Boucher's discography bears witness to the vitality of his performing career. On his mort recent recording he brings to life the organ music of Titelouze, Dupré and Daveluy on the Cavaillé-Coll in the church at Mortagne-au-Perche, the Norman village where his ancestor Pierre Boucher lived before emigrating to Canada in 1634. In July 1991, Jacques Boucher participated as organist in the eighth Congres international de la Federation des Amis de l'Orgue field in Quebec.
In September 1992, he was asked to perform in the church of the Madeleine in Paris, and at the Sanctuaire St- Bonaventure in Lyon. In the fall of 1994, he was invited on a concert tour of France, which took him to the Basilique-Cathedral of St-Denis near Paris, the Cathedral at Versailles and the Cathedral at Laon.
His next musical project will include performances in the USA. and Europe. where he will also pursue his interest in organ-building and writings about the organ.
Since 1986, Jacques Boucher has been the resident organist at the great Casavant organ in the Eglise Saint Jean-Baptiste in Montréal, presiding over the vibrant cultural life of the church.