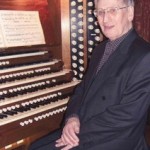 Harold Britton was born in Bristol and studied music/organ at the Cathedral under Clifford Harker, later taking tuition from Dr Harold Darke. In 1966 he was invited by Fernando Germani to attend his organ class at Accademia Musicale Chigiano in Siena. The following year Harold studied the works of Marcel Dupré together with the composer in Paris.
Harold held the post of Civic Organist of Walsall for many years. He has given recitals in most of the county's principal cathedrals and concert halls. These include St Paul's Cathedral, Westminster Abbey, Westminster Cathedral, Hereford Cathedral, the Royal Albert Hall, Colston Hall Bristol, Broadcasting House and St George's Chapel, Windsor. In addition he has participated in the Ely Cathedral Organ Festival and given an extensive series of recitals at Birmingham Town Hall.
His numerous performances at Notre-Dame Cathedral in Paris have been acclaimed by audiences, organists and composers alike; it was as a result of one of these recitals that he was invited to serve on the jury of the Chartres International Organ Competition (1972). International recital tours have taken him to France, Germany, Czechoslovakia, the former Yugoslavia as well as Australia and the USA.
He offers a repertoire that is exceptionally large and comprehensive, taking in such diverse elements as jazz, transcriptions, improvisations and modern American music as well as the standard repertoire.