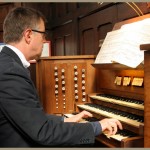 After starting the organ and got a gold medal in 1977 at the National Conservatory of Calais in the class of Pierre Letaillieur, François Lombard, born in 1958, studying with André Isoir, Michel Chapuis, Gaston Litaize in Conservatoire National de Région d'Orsay, Besançon and Saint-Maur des Fossés. He won the highest awards (Gold, Award and Diploma concert unanimously) between 1979 and 1983 and also receives a gold medal music writing in the class of Pierre Doury at the CNR of Saint-Maur-des Fossés.
In 1982 he was awarded the First Grand Prize at the National Interpretation Contest at Vernon organized by the Lions Club of France. Titular of the great organ in the church of Saint Pierre de Calais since 1984, he is also professor of organ at the inter school music Hondschoote in Flanders near Dunkirk. It gives parallel many concerts and had the opportunity to perform several times in the highest places of the organ, both in France and abroad (Notre-Dame de Paris, Chartres, Poitiers, Dijon, Saint-Maximin Var, Bordeaux, Bourges, Rennes, Rouen, Roquevaire Festival, St. Paul's in London, Berlin, etc …). He also made many particularly noticed by the specialized critic recordings (Bach Works, Guilmant, Vierne, Duruflé, Cochereau, etc …).
Early fascinated by the improvisational genius Pierre Cochereau, former organist at Notre-Dame de Paris died in 1984, he began to reconstruct the most accomplished improvisations (Butz editions, Bonn, Germany). He, on the other hand, with organist Pierre Pincemaille, created to drive the work written by Pierre Cochereau (Solstice Records). Very attached to the Nord-Pas de Calais region where he lives, François Lombard is also president of the Association of the organ of Tournehem-sur-la-Hem and member of several friends of the organ associations, participating in promoting organ in the North of France.