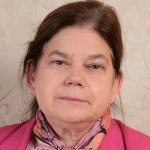 The Czech organist Dorothea Fleischmannová began her studies of not only her instrument but also of piano and composition at the Prague Conservatory.
After graduating in 1975 from the Prague Academy of Music, where site studied the organ, she went to Paris on a scolarship from the French government to attend the Schola Cantorum ; her professors were Jean Langlais and Gaston Litaize. In 1976 she received the Diploma "supérieur" in 1977 the one for "virtuosité" as well as several other awards.
After her return to Prague, she entered the Czech concert scene ; in 1981 she recorded a recital for the Panton label (LP), and further CD recordings followed.
Since 1979 she has been a regular guest of international festivals, including Avignon (1979, 1991, 1994, 1996), Barcelone (1981),  Vienne (1981) ; she has given concerts in the cathedrals of Paris (Notre-Dame 1979, 1984), Chartres, Montpellier, Nîmes, Aix en Provence, Viviers, Nantes and elsewhere. She has undertaken many tours in ltaly, Germany, Spain, Denmark and other countries. She has performed many times in Czech churches and concert halls. The core of her repertoire is made up of works by Czech and Germon baroque composers, including a wide selection from the works by J. S. Bach, as well as from the music by French and European romantics, including Mendelssohn and Brahms. She also dedicates herself to contemporary French music and has played works by Olivier Messiaen, whose lectures she attended whilst in Paris. Dorothea Fleischmannová is also at the service of Czech contemporary music. She is professor of organ improvisation at the J. Deyl Conservatory and Music School of Prague, and she also cooperates with a number of soloists.