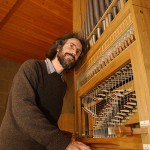 Following comprehensive musical studies in Berne, Freiburg i.Br. and Paris in theory (Theo Hirsbrunner), composition (Klaus Huber), organ (Heinrich Gurtner, Gaston Litaize, Daniel Roth) and conducting (Paul Theissen, Erich Schmid), Daniel Glaus continued with a pervasive and formative self-study of Heraclitus, Platon, the Bible, gregorianic, Frescobaldi, Bach, Swedenborg, Beethoven, Schubert, Brahms, Debussy, Rilke, Kandinsky, Schönberg, Webern, Nono, Cacciari, butterflies, trees, mountains and most particularly life, family, children, pupils, concerts and environment (political-economical-ecological-ethical).
He works as a composer, a church musician at the Stadtkirche Biel and as a professor at the music schools of Zurich (composition and theory) and Berne (organ)
He plays the organ at concerts on an international level.
Daniel Glaus is trongly engaged in questions concerning the building of organs (including the conception of the swallow's-nest organ in Biel, Metzler 1994 ; director of the research project 'Innov-Organ-um' for the development of a sensitive-dynamic organ)
– Co-initiator of the IV International Congress for Church Music (New Music in the Church), Ittingen/TG 1997.
– Fruitful collaboration and friendship with the poet and pastor Andres Urweider, Biel.
– Lives with his family in Biel.