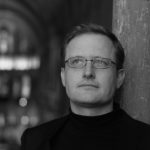 Born in Bonheiden (Belgium), Benjamin-Joseph STEENS studied musicology at the Catholic University of Leuven and at the University of the Sorbonne Paris-IV, where he earned a Master's degree in 1994. At the same time, the extensive musical formation that he underwent at the Lemmens Institute (Leuven) and at the Conservatory of Orleans led him to the Higher National Conservatory of Music and Dance of Paris, where his studies won him several first prizes and diplomas of higher formation in organ (under Michel Bouvard and Olivier Latry), harpsichord (under Pierre Hantai then Olivier Baumont) and basso continuo. In addition, while there he procured the "Certificat d'Aptitude" for Organ (department of pedagogy, 2004).
His attraction to antique keyboards was enriched by his contact with Jos van Immerseel, with whom he improved at the Conservatory of Antwerp. Since that time, he has played more and more clavichord, becoming one of the few contemporary keyboardists to play this instrument in recital and to use it in chamber music (notably with Jacques-Antoine Bresh, traverso).
His natural curiosity for all repertories leads him also to take an interest in the music of the 19th, 20th and 21st centuries and to collaborate with composers in preparing such creations as the Ricercar for organ, by Bert van Herck, at the Saint Remi Basilica of Rheims on June 11, 2006.
Titular of the Cattiaux great organ in the Saint Remi Basilica of Rheims of which he is also curator, responsible for the Bernard Aubertin organ in Vertus (The Marne), Benjamin-Joseph Steens appears regularly in Europe (Festival de Flandres, Toulouse-les-Orgues, Flâneries Musicales de Reims…) for recitals, chamber music concerts or orchestral productions. His performances are regularly recorded for radio or television. He teaches organ, harpsichord and basso continuo at the National Conservatory of Region of Music and Dance of Rheims and at the conservatory of Levallois (Paris région).
And Clavichord at the Sorbonne University.
His discography includes several CDs made ​​for the Label Epr-classic. In 2007 appears the CD / DVD Bach – Buxtehude recorded on the great organs of Saint-Martin de Vertus and Saint-Remi of Reims. His clavichord recordings: the Goldberg Variations by JS Bach (2010) and Bach and Sons, sonatas for flute and obbligato keyboard of the Bach family with Jacques-Antoine Bresch to Traverso (2011) won considerable public success and where acclaimed by international critics.