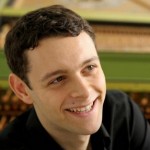 Born in Rouen in 1985, Benjamin Alard starts playing the piano at the age of seven. Then he studies the organ with Louis Thiry and François Ménissier at the Rouen Conservatory where he obtains a Gold Medal in 2001. Inspired by ancient music, he decides to turn towards the harpsichord, working with Elisabeth Joyé. He continues his studies at the Schola Cantorum in Basel where he obtains the organ and harpsichord diploma (with the jurys congratulations) in the classes of Jean-Claude Zehnder and Andrea Marcon.
In 2004, he is awarded the First Prize and the Audience Prize at the Bruges International Competition. He is laureate at the program Déclic 2005 / 2006, organised by Cultures France, supported by Mécénat musical of the French bank Société Générale. Since 2005 Benjamin Alard is appointed organist at the new Aubertin organ in the church Saint Louis en l'Ile in Paris. In 2007, he is Juventus laureate. In September 2007, he Ovins the First Prize at the Gottfried-Silbermann organ competition in Freiberg (Germany). At this occasion the city of Naumburg awards him the Hildebrandt-Prize. In 2007, Benjamin Alard is nominated for the Victoires de la Musique Classique in the section « Révélation instrumentale ».
He is giving harpsichord and organ recitals during prestigious festivals: Printemps des Arts in Nantes, "la Folle journée" in Nantes and Lisbon, the festival in Saintes, at Flagey-Hall in Brussels, the Radio-France-Festival in Montpellier, concerts in the Louvre-Museum in Paris, the Bach-Festival in Istanbul, BOZAR in Bruxelles, Journées du Centre de Musique Baroque in Versailles, the festival in Ambronay… He is also taking part in concerts with musical ensembles such as La Petite Bande (dir. Sigiswald Kuijken), Capriccio Stravagante (dir. Skip Sempé), Venice Baroque Orchestra (dir. Andrea Marcon), Il Gardellino (dir. Marcel Ponseele)…
His CD entitled «Andreas Bach Buch» (Editions Hortus, 2006) has been distinguished by the reviewers («Joker» from Crescendo, «Cinq» from Goldberg, Le Monde, Diapason, Classica Répertoire….). « Transcriptions », his CD dedicated to J.S. Bach transcriptions for harpsichord (Editions Hortus, 2007) got an excellent review by Monde de la Musique. In November 2008 he released a harpsichord recording entitled « Manuscrit Bauyn » (Editions Hortus).
Between January and June 2009, Benjamin Alard has given a series of seven recitals on the organ in St Louis en l'Ile, dedicated to European music of the 17th century, presented country by country.