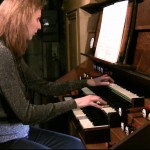 Béatrice Piertot is professor of organ and harpsichord at the Conservatory of Abbeville and co-titular organist at St. Lawrence Parish in Paris.
Prize winner of several international competitions, she is the guest of prestigious festivals.
She studied with famous scholars such as Laurent Cabasso, Marie-Louise Langlais, Éric Lebrun, and Francoise Levéchin and attended masterclasses with Marie-Claire Alain, James-David Christie, Pierre Hantai, Francoise Lengellé, Olivier Latry and Daniel Roth. She studied harpsichord with Élisabeth Joyé and currently studies viola da gamba with Pedro Slobodianik since 2009 and baroque dance with Cecilia Gracio-Moura since 2008.
She is the author of a Master's thesis carried out at the Sorbonne entitled "The Treaties of Improvisation of the organ in France from 1900 to 2002" and pursues musicological research. She was the artistic adviser (organ) for the Festival of Saint-Riquier (2006-2010).
She is interested in contemporary music and on occasion she had the opportunity of working with composers (Jean-Louis Florentz, Naji Hakim, Vincent Paulet, and Bruno Mantovani). Several composers have dedicated their works to her (Lebrun, Nemoto, Paulet, and Werner). Her recording of the Prélude de l'Enfant Noir by Jean-Louis Florentz at St. Eustache (Paris) appeared under his direction in the book-disc of Marie-Louise Langlais "Jean-Louis Florentz, l'œuvre d'orgue, témoignages croisés" on the Symétrie label. In 2010, she recorded for Ctésibios, for the review "Orgues Nouvelles" as well as for Bayard Musiques (Twenty Mysteries of Éric Lebrun's rosary, "Jesus found in the Temple" with Andréa Garnier). In 2012, two new records : "Orgue en Alsace, volume 7", at the historical Organ of MOLLAU with Yannick Merlin, and Jean-Jacques WERNER for Ctesibios, with the Choir of Notre-Dame (Lionel Sow), Frédéric Werner (flute), Elsa Grether (violin) and Yannick Merlin (organ).
http://beatrice.piertot.voila.net/index.htm