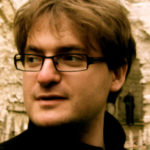 Augustin BELLIOT followed musical studies at the National Conservatory of Nantes Region, attending in particular the Violin and Bassoon classes.
Then he was admitted to the Writing classes of the National Superior Conservatory of Music and Dance in Paris, where he obtained the prizes for Harmony, Counterpoint, Twentieth century Writing and Polyphonies of the Renaissance. These studies in Paris allowed him to benefit from contact with musical personalities such as Marc-André Dalbavie, Thierry Escaich and Olivier Trachier. He took the opportunity to study in the same establishment other disciplines, such as Orchestration, Tuning and Temperaments, Treaties of early music, Ethnomusicology, Organology and Iconography. The Diploma in Higher Writing Training is awarded to him with the mention Very Good.
Organist and harmonium player who started out as a self-taught artist, he then decided to train with Frédéric Desenclos from 2004 to 2007. He performed in chamber groups as well as in recital, and regularly heard his art harmonium Couty & Richard (1870) restored by him.
Augustin Belliot is a composer. He started composing at a young age, especially at the start of pieces for liturgical use linked to his organist activity. He is the author of vocal and instrumental works for diverse numbers, ranging from the soloist to the symphonic orchestra with choirs. His music reflects his tastes for symbolism in general, ancient counterpoint, and work on special intervals.
His desire to share music with as many people as possible has led him in recent years to give several cycles of conferences accessible to all, by willingly bringing together different artistic disciplines. This desire was also materialized by the creation of the association "Les Orgues dans nos Campagnes" which he chairs in the department of Cher.
Augustin Belliot is professor of Musical Culture and Composition at the Bourges Departmental Conservatory.