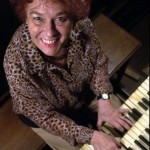 Born in Buenos Aires, Adelma Gomez gets her Higher Diploma in Teacher Municipal Conservatory Manuel de Falla with maximum entries in all disciplines. She studied organ under the direction of Jules Perceval and Hector Zeoli and harmony, counterpoint and fugue with Theodore Fuchs.
His concert activity and teacher is very intense. Adelma Gomez was the first organist to play almost all the recent organ music of his country. It occurred especially in "Festivals International de Música Contemporánea". In 1972 she played for the first time in South America "Organ Book" by Olivier Messiaen and in 1978 she gave a recital tribute to the composer for his 70 birthday under the patronage of the Embassy France to Argentina. For eight years she has made in Buenos Aires concert series devoted to the French organ music from the Renaissance to the present. Adelma Gomez occurs throughout Europe (Spain, France, Italy, Switzerland, Germany, England, Belgium, Portugal, Poland, USSR) and also in Latin America (Mexico, Venezuela, Peru, Brazil, Uruguay) winning at every concert a great success. She has also made recordings for Radio Hilversum (Netherlands), ORF (Vienna) and Nacional de Espana.
Since 1973 she was Professor of Organ and Gregorian Chant at the National University of San Juan. She organizes the annual "Festivals Nacionales de Cursos y Organo" with Argentine and foreign performers and many scholars from across the country.
Since 1983 Adelma Gomez directs and animates the "Conciertos de Organo" for the City of Buenos Aires, which has more than 70 organs in activity. This cycle has just celebrated in November 1987 the realization of its 300′ concert.
Adelma Gomez died tragically in Buenos Aires November 9, 2011.