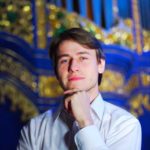 Adam Tański is a graduate of the Fryderyk Chopin University of Music in Warsaw in the organ class of Prof. Magdalena Czajka and Prof. Jarosław Wróblewski. He also graduated with honours from the Hochschule für Musik in Mainz in the organ class of Prof. Gerhard Gnann and the Conservatoire National Supérieur de Musique et de Danse in Paris in the organ class of Prof. Michel Bouvard and Prof. Olivier Latry. In 2015-2017, Adam Tański was a pedagogue at the Grażyna and Kiejstut Bacewicz Academy of Music in Łódź; currently he lectures the art of organ playing and improvisation at the Diocesan Institute of Church Music in Łomża.
He is a laureate of a special prize at the 5th Feliks Nowowiejski International Organ Competition in Poznań (2015) and the 1st prize at the International Organ Competition "European Baroque Organs" in Katowice (2014). He was also a semi-finalist of the following international organ competitions: Mikael Tariverdiev in Kaliningrad (2013), Leoš Janaček in Brno (2012), J.S. Bach in Wiesbaden (2009).
Adam Tański was a scholarship holder of the Lions Club Warsaw NIKE (2014, 2015), French foundations Meyer and Brieux Ustarizt (2013-2015), Rector of the Fryderyk Chopin University of Music (2010, 2011) and the Polish Prime Minister (2006, 2007). He gives concerts at festivals in Poland and abroad; he has performed at the National Philharmonic in Warsaw, recitals and organ concerts in Germany, France and Great Britain. In 2017, he received a scholarship of the Minister of Culture and National Heritage for research work on the historical organ of the Łomża Diocese, whereas in 2018 he carried out an educational project for children focused on the historical organs of the capital city as part of the artistic scholarship of the City of Warsaw.


In addition, Adam Tański is a co-founder and artistic director of the festival Etnosakralia Kurpiowskie, combining organ music with traditional and improvised music; he is also an active composer. His works have been performed in Poland and Germany and in 2018 his first monographic publication containing five pieces for keyboard instruments was released in the publishing series "Biblioteczka Kurpiowska".