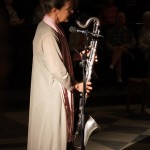 The term "klezmer" comes from the combination of two Hebrew words : "Kaile" instrument and "zemer" voice. It is the expression of the human voice through the instrument.
Klezmer music, which legend says that she would be born in the city of Odessa's Jewish music of Eastern Europe.
Due to the establishment of Jewish communities around the world, the genre has been enriched with many and varied influences : Greek, Gypsy, Ottoman, Spanish, but also with American jazz (influence of Gershwin).
It has the characteristic expressiveness of painting with human feelings, alternating very lilting melodies and improvisations.
It comes in the form of small pieces of three or fourth minutes, forming an extremely rich and diverse repertoire, in a palette of "musical colors" that operates Surprisingly the clarinet resources.
Rose Bacot won the gold medal clarinet and gold unanimously in chamber music at the Conservatory of Versailles, with Henry Dionnet, the license concert of the École Normale de Musique de Paris with Roland Simoncini and a Musicology license.
She followed the master class Shandor Vegh at the Mozarteum in Salzburg. Then she perfected with clarinetist Yona Ettlinger.
Having been a teacher at the conservatories of Chaville and St. Cloud, she worked in Mexico Symphony Orchestra, Argentina chamber music with Nino De Racco, and France, with Daniel Spiegelberg.
The opening to the klezmer repertoire, there a few years ago was for her the opportunity of a rich rediscovery of his instrument.