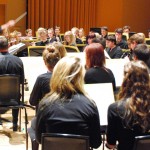 Hertfordshire Wind Sinfonia
The HERTFORDSHIRE WIND SINFONIA together sixty wind instruments, will come from England for a concert.
This orchestra, which recently happened in the Cathedral of St Alban (GB) or at the Royal Academy of Music in London will be under the direction of Mark EAGER.
The musicians will perform a wide sacred repertoire, marked by the English tradition.