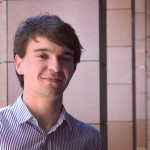 Born in 1991 in Avignon, Emmanuel ARAKÉLIAN commenced his musical studies at the age of 12 years with organists Jean-Pierre Lecaudey and Henri Pourtau.
He would later continue his musical studies at the Conservatoire National de Région of Toulon, studying the organ with Pascal Marsault and the harpsichord and basso continuo with Claire Bodin.
In 2012, he completed these studies with highest honors on the unanimous recommendation of the jury. At the same time, he also followed classes on musical theory and analysis, music history, and chamber music.
After receiving his diploma from the Conservatory of Toulon, he continued his harpsichord studies with Françoise Marmin and Françoise Lengellé.
His love for early music and his interest in instrument building has lead him to work extensively with historic organs and harpsichords and to undergo research on baroque ornamentation and musical rhetoric.
He is also equally passionate about the music of our times, frequently performing contemporary music of Vincent Paulet, Bernard Foccroulle, Thierry Escaich, and Grégoire Rolland. Over the last several months, he has also worked intensely on the works of Jehan Alain (1911-1940).
A student at the Conservatoire National Supérieur de Paris since 2012, he is simultaneously pursuing studies in organ with Olivier Latry and Michel Bouvard, and in harpsichord and basso continuo with Olivier Baumont and Blandine Rannou. Over the course of studies, he has been honored with scholarships by the Fondation de France, the Fonds Tarazzi, and the Fondation Meyer.
Parallel to his studies, he is also organist of the Pascal Quoirin/Jean-Louis Loriaut organ of Saint Léonce Cathedral of Fréjus. In addition to serving as organist, he is also Artistic
Director of the cathedral's concert series.
He appears regularly in recitals as an organ or harpsichord soloist, as an accompanist, and also playing music for four hands with John Walthausen.