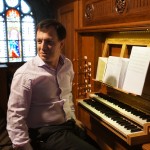 Born in 1970 in Versailles, Denis Comtet studied organ with Gaston Litaize at the St. Maur Conservatory. Afterwards, he was admitted at the CNSM in Paris, where he was awarded the Frst Prize in organ (Michel Chapuis) in 1989, and in 1993, unanimously the First Prize in piano accompaniment (Jean Körner). Then, he completed his training with the Versailles choir 'Maîtrise des Petits Chanteurs'.
His organ repertory is based on the French symphonic period and its continuation in the 20th century. Many festival organisers in France and abroad welcome him : all over Europe, the United States, Canada, Japan and the Near East. His latent recording is dedicated to André Fleury's organ works. He uses part of his musical working time on the presentation of contemporary music, performing many new compositions with different ensembles such as 'Ensemble Intercontemporain', Ensemble Envartung' and the Frankfort Ensemble 'Modern'.
In 1999, he became assistant at the CNSM in Paris. and numerous lyric works are being produced with his cooperation. Influenced by Laurence Equilbey, he helps to develop the Ensemble Accentua- Axe 21. The most important French orchestras welcome Denis Comtet as an instrumentalist for performing symphonie works : Orchestre de Paris, Orchestre Philharmonique de Radio-France, Orchestre National de France.
In Rome. he trained with the conductor Bruno Aprea. Since 1999, he assists the orchestra conductor Oswald Sallaberger at the Theatre of Arts in Rouen, he is also the chief assistant of the Aix en Provence Festival and of the Beethoven Academy Orchestra in Anvers.
Today, Denis Comtet is the titular organist of St. François-Xavier in Paris and member of the Organ Commission of the Archbishop of Paris.
He also teaches accompaniment at the conservatory of Paris (17)